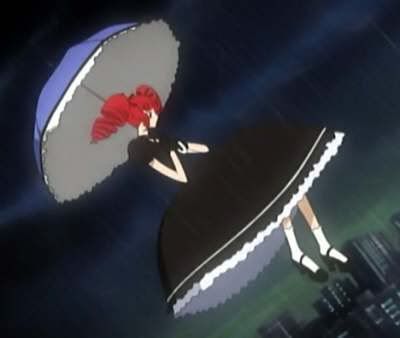 Bio:
Amewarashi is one of those characters in xxxHOLiC that you ether notice or not. She doesn't have a bit part in the story but left a big impression on me. Amewarashi is a rain spirit. She has control over the weather (at least in the rain-department) and can tell if people has a pure soul (they smell good). Amewarashi also don't like humans, as they can't understand the importance of the nature and take it for granted.

Why?:
I love the character Amewarashi. She speaks her mind and doesn't let anything get in the way. And her dresses, they are so cute!
Costume Construction:
I used a pattern from a Gosu Rori to the bodies and the sleeves. I cut off the bodies in the waist and then took a rectangular piece of fabric and shaped the skirt. After sewing together the bodies and the skirt I sew on the ruffles at the hem. The ribbons in the hem and cleavage was hand sewn last. The main fabric in the dress is a nylon/polyester tafetta similar fabric that gave me the feeling of umbrella-fabric. Fitting for a rain spirit.
The wig was bought styled as Miku Hatsune and restyled for Amewarashi by me and a friend. The reason the wig is but is because I based my dress on the manga version were Amewarashi is coloured with blue hair instead of the anime's red. More here -->
Link
. Shoes, socks and gloves were bought.
I still have to get a better petticoat as mine (all three) didn't gave me the shape I wanted. Other than that it is finished.
Convention Info: I have worn Amewarashi at KodachiCon '10. Not many people recognised me as Amewarashi but still liked the outfit. I was part of the cosplay masquerade in a skit that my friend and I came up with the night before the con. It was so fun even thou non of us won.

Future: I will defintly wear Amewarashi again and I really want to sew more of her outfits.